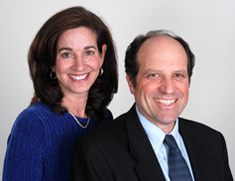 It is widely believed that how wealthy you are is a result of external factors. But the surprising truth is that affluence is actually based on a certain way of thinking, one which has never before been discussed. Now, after decades of working with clients of all backgrounds—including billionaires—psychologist Stephen Goldbart and psychotherapist Joan DiFuria reveal the new concept of "Affluence Intelligence," a mindset that makes people not just wealthy but deeply fulfilled.
Affluence Intelligence is a unique life strategy book born out of our many years of professional experience that combines psychology, business, and life lessons learned from those who have attained significant financial and personal success. The goal? To bring you the keys to unlock real and lasting change in your life that will help you to create wealth and fulfillment. How? Begin by determining your Affluence Intelligence Quotient (AIQ), a measure of your capacities, highlighting your strengths, what gets in your way, and what requires change. Next, use the step-by-step Action Plan to raise your AIQ in just three months, for more money, more security, and more joy. Affluence Intelligence will help live the priorities that are most important to you, set and achieve ambitious goals, and make the changes that enable you to succeed—while enjoying the ride!
There is no better time to gain clarity on our relationship to money and life priorities, given the current economic climate.
Affluence Intelligence is for everyone who suspects they are devoting too much time to worrying about finances and too little time to living life.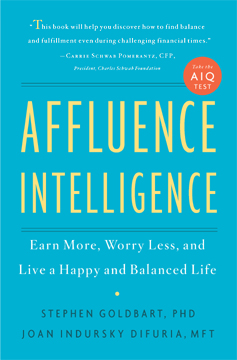 Affluence Intelligence
Earn More, Worry Less, and
Live a Happy and Balanced Life
by Stephen Goldbart and Joan DiFuria
Hardcover
US $25.00 / CAN $29.00

ISBN: 9780738214245

Published by Da Capo Press